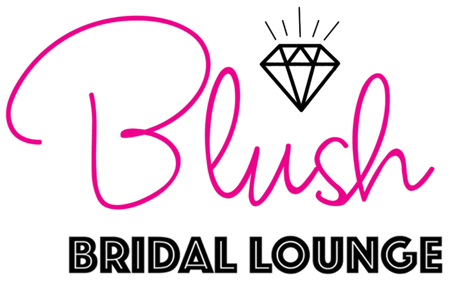 Q: Are masks required?
A:
*Masks are preferred (updated 04/01/2022) - if you or a member of your party would like a mask upon arrival, one will be provided for you.
Q: ARE APPOINTMENTS REQUIRED?
A:
YES. Scheduling an appointment is important when shopping for your wedding gown. Our goal at Blush Bridal Lounge is to help you find your dream dress, and an appointment guarantees that you will have a dressing suite and a Blush stylist's undivided attention. Although appointments are REQUIRED, we might be able to accommodate walk-ins during the week (only); please call ahead to check availability. All appointments can be booked online through our website.
Q: HOW LONG ARE THE APPOINTMENTS?
A:
You will have your own dressing suite and personal stylist, reserved for you and your guests for…
First visit: 1.5 hours
Second visit: 1 hour
Third +: 30 minutes (unless time permits)
Q: DO YOU HAVE A GUEST MAXIMUM?
A:
YES. We limit our appointments to a total of 5 guests (including the bride). You will have your own private dressing suite reserved for you and your group.
Q: ARE THERE ANY RESTRICTIONS?
A:
YES.
*No outside FOOD or DRINKS allowed.
*NO persons under the age of 10 years.
Although we love little ones (and some of our staff are in fact mothers), we do not permit children under the age of 10 yrs at Blush Bridal Lounge. Infants (under 12 mo) are permissible in carriers/strollers and held, only.
Q: WHAT SIZES ARE YOUR SAMPLES?
A:
No Bride Left Behind! Our in-store samples range from sizes 8-26, and can be special ordered in sizes 0-32. Be aware, bridal sample sizes do run smaller, but our expert team of Blush stylist's will help make sure you get the best fit, based off of each designer's size chart.
Q: WHO SHOULD I BRING?
A:
More than 3 guests can make decision-making stressful and difficult, especially if everyone's offering conflicting opinions. Bring only those whose opinions and words of encouragement will help you to stay positive and make your decision.
Q: HOW SHOULD I PREPARE FOR MY APPOINTMENT?
A:
Do your homework. Save pictures from your favorite inspiration sources, and our Blush Bridal designers!
Be open-minded! What looks fabulous on a model or on Pinterest may not turn out to be right for you. Consider all styles when trying on gowns, and trust your Blush stylist! You might find that something with little "hanger appeal" looks gorgeous on… and could even turn out to be the "one." Surprise yourself!
Consider your budget. Money matters! Be honest about what you want to spend, and tell your Blush stylist what that amount is… up front. Keeping it "real" with your budget, ensures getting the most out of your appointment.
Dress the part! Look good, feel good! Put on makeup, style your hair and be sure to wear undergarments you are comfortable in and could possibly wear on your wedding day. Shoes are not required, but if they help you visualize with your gown for the big day, bring them!
Have fun :) This experience is part of one of the happiest times in your life. So above all, remember to have fun!!!
Q: DO YOU HAVE AN IN-HOUSE SEAMSTRESS?
A:
NO, not on site. But do not fret! We do offer all of our Blush brides a list of RECOMMENDED skilled/qualified seamstresses, who have worked in the bridal industry over 10+ years.
Q: WHAT IS THE PRICE RANGE OF YOUR GOWNS?
A:
Our gowns range from $1700 - $6000, with the majority of samples averaging $2000 - $3500. For designer gowns beginning/priced lower than $2000 or off the rack inventory, please contact our sister store Second Summer Bride: (512) 419-9001
Q: HOW LONG DOES IT TAKE TO ORDER A GOWN?
A:
Allow yourself at least 6 months to special order and receive your gown, as they are all made to order. Some designers do offer rushes to ensure a speedier delivery, however this means additional cost to you. For shorter turnaround times or immediate gown purchases (off the rack), please visit our sister store, Second Summer Bride. www.secondsummerbride.com (512) 419-9001.